Artecoll™ For long-lasting correction of wrinkles, scars and lip enhancement

Take advantage of our
ONLINE CONSULTATION
to see if you're a good candidate for Artecoll treatment. It's free and quick.
You can reverse time with Artecoll™
A simple one-step procedure.
Medically proven to be safe and effective.
Artecoll™ has been used with more than 100,000 patients over the last 10 years.
Most patients required only one (62%) or two (24%) applications.
Nine out of ten patients say they're satisfied with how they now look.
Virtually 100% of patients had objective improvement upon post-operative review.
Results are considered permanent; there's no need to continually repeat treatment as with some other procedures. This can reduce your long-term costs.
Unlike collagen and hyaluronic acid, Artecoll™ maintains its cosmetic results for years.
With Artecoll™, there's more that you can do
Fill folds and wrinkles on the face, primarily around the nose and mouth (including depressed corners of the mouth), and fill in lines and creases on the forehead.
Enhance and restore the fullness of your lips.
Correct irregularities of the nose.
Correct scars caused by acne and other conditions.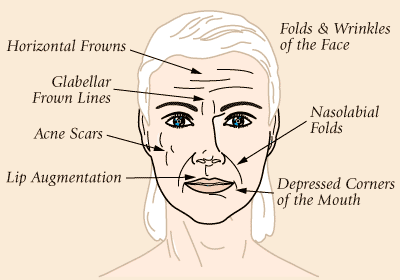 Artecoll™ treatment is simple, easy and virtually pain-free
A series of tiny injections under the skin's surface.
Artecoll™ fills the gaps, raising the skin to its normal height.
Some minor smoothing may be done immediately after the injection.
During the 3 or 4 months after your Artecoll™ treatment, your body will lay down its own natural collagen around the Artecoll™ particles, producing the long-lasting correction you desire. You may have another Artecoll™ treatment in the same area after 2-4 months if additional correction is desired.
What can Artecoll™ do for you?
"Don't knock it until you try it - and that applies to the medical professionals as well as to the people reticent to try Artecoll™. I am a 58-year-old professional female continually in contact with people. Considering the importance attributed to the "youthful look" so much valued in our society today, I opted for two separate sessions of Artecoll™injections. The difference in my appearance was subtle enough that no one noticed a great difference in my looks, however, people would continually comment: "you look so great! Whatever you are doing, it works!"
1. What is Artecoll™?
Artecoll™ is an injectable implant used for the long-lasting correction of wrinkles and other skin depressions. Artecoll™ is composed of ultra fine particles of polymethyl methacrylate (PMMA) which are suspended in a collagen solution. Artecoll™ will soon be marketed in the United States under the trade name Artefill™.
PMMA has been used by doctors for over 60 years in such common procedures as dental prostheses, eye lenses, bone repair, orthopedics and in pacemakers. PMMA is used because it is very safe and does not cause allergic reactions.
What is the difference between Artecoll™ and Botox®?
Botox® relaxes the muscles which cause many facial lines and unwanted facial expressions.
Fillers like Artecoll™, collagen (Zyplast™ and Zyderm™), Perlane™, Restylane™ and other products fill creases, lips, cheekbones, and also defects like acne scars. Sometimes Botox® is used in combination with Artecoll™ when treating certain areas where permanent deep lines have resulted from over activity of the muscles, for example some frown lines on the lower forehead or wrinkles around the lips.
2. How much does Artecoll™ cost?
In Canada, Artecoll™ is not expensive; however there is a cost involved. Many cosmetic treatments were once considered a luxury item only for those who had a high disposable income. Artecoll™ is very affordable even for those with modest incomes, but some people need to budget for it just as they would for buying accessories like shoes and having their hair styled.
"Having successful cosmetic treatments for your face is not expensive, it is priceless."
You might typically use a total of one or two syringes of Artecoll™ (perhaps one to start with and maybe another in 3 or 4 months) to enhance your lips, or to soften and fill in your nasolabial folds or forehead lines. The improvement is gradual (allowing you to control the rate and degree of correction) — and the cost is spread out over a long period of time, so Artecoll™ treatment should be easy on you, and easy on your budget! Because the improvement is not sudden, people are likely to notice that you are looking better, but they will probably not know WHY your appearance is improving as time goes on (unless you share your secret with them!)
Artecoll™ treatments may be a tax deductible medical expense (similar to dental, orthodontic and cosmetic surgery bills), so save your receipts!
3. How does Artecoll™ work?
After Artecoll™ is injected; the collagen in which the PMMA particles are suspended is absorbed by your body over a period of about 4 weeks. During this time there may appear to be some loss of the correction in the treated skin folds, wrinkles and scars.
The ultra fine particles of PMMA in Artecoll™ stimulate your skin to produce its own natural collagen, which is laid down around the PMMA particles during the 3 or 4 months after Artecoll™ is injected. The long term correction volume is usually around 50% of the injected volume. This produces the final permanent and natural correction which you desire. While the effect is permanent, it will take a few months before the full effect of a treatment is apparent, and usually several treatments are required to obtain the final result you desire.
It's important to remember that it takes 3 or 4 months for Artecoll™ to fully settle in, so you should not judge the results too soon. You need to allow time for your body to produce new collagen to anchor the PMMA microspheres in place.
4. How long does the Artecoll™ implant last?
Unlike collagen (which lasts 3-6 months) or hyaluronic acid (which lasts 6-12 months), the benefits of Artecoll™ treatment should be visible for at least five years or longer, depending on the location of the treatment and the nature of your skin. The implant will remain for the rest of your life.
Artecoll™ does not stop time. With sun damage and because of the natural aging process new wrinkles may appear close to the site of the original implant, or existing wrinkles may gradually become deeper as time goes on. These wrinkles and skin folds can be treated with Artecoll™ if you desire in the future.
In some areas (for example, the forehead and upper lip) Botox® treatments are often used to reduce unwanted muscle movement and in this way complement the effect of the Artecoll™ treatment in those areas.
5. Is Artecoll™ safe?
Yes. Artecoll™ is extremely safe. More than one hundred thousand men and women in all age groups around the world have been successfully treated with Artecoll™ since 1989. Studies show that the vast majority of them were so happy with their results they would be willing to have the treatment again.
There have been no reports of rejection of the PMMA microspheres. PMMA has been used since the early 1930's in dental prostheses, and since 1947, when the first hip prosthesis was introduced. Many scientific articles on bone repair have mentioned the chemical inertness and biocompatibility of PMMA.
The collagen molecules have been specially processed to minimize the risk of allergic reaction.
A skin test can be used to determine if the patient is sensitive or allergic to the collagen or lidocaine in Artecoll™. A tiny amount of the collagen/lidocaine solution is injected on the inside of the arm, near the elbow. There are no PMMA microspheres in the test dose, so there will be no long-lasting changes in the skin where the test dose is injected. If there is no redness, tenderness itching or swelling in the test area 2-4 weeks after the test dose, we can be confident that there will be no allergic reaction to Artecoll™. Less than one person in a thousand has an allergic reaction to Artecoll™.
People who have had no problems with collagen injections in the past do not need to have an Artecoll™ skin test.
Rarely, if the injection is made near to the skin surface, the implant may appear as a light colored area. If this color difference persists, the Artecoll™ can be removed.
In less than one case in a thousand there can be excessive production of collagen and connective tissue in the treated area. If this happens, the involved area can be injected with the anti-inflammatory medication Kenalog, or may be removed by excision.
Possible side effects include swelling, redness, slight bruising and moderate discomfort for a few days after injection. Sometimes there can be slight itching at the implantation site for several days.
6. What does Artecoll™ treatment feel like?
The needle used for Artecoll™ is very fine and many patients are very pleased by the minimal discomfort of the Artecoll™ treatment. Very sensitive areas (for example, the lips) are gently anesthetized before Artecoll™ treatment to improve your comfort. In addition, Artecoll™ contains lidocaine to minimize post-treatment tenderness. Anesthetic cream may be applied to your skin for 30-60 minutes before treatment to reduce discomfort. Some people find it helpful to take a couple of plain Tylenol™ and/or Advil™ an hour or two before treatment to reduce discomfort.
7. Who should not have Artecoll™ treatments?
People with a positive reaction to skin test
People who are allergic to collagen or bovine products
People who are genuinely allergic to lidocaine (this is very rare)
People who have severe rheumatoid arthritis, lupus or dermatomyositis
People who tend to make enlarged scars (keloids)
People who have thin, loose skin in the area to be treated
People who have unrealistic expectations (as with any treatment, you need to have an accurate understanding of the likely benefits and risks of Artecoll™ treatment.)
8. Can a face-lift or other surgery be performed after an Artecoll™ implantation?
Yes. A face-lift can be performed after an Artecoll™ implantation. The skin on the face is thick enough to prevent the implants from becoming visible after a face-lift. Artecoll™ should not be used in thin, loose skin. It is possible that an implant in thin skin will be visible after a face-lift. Artecoll™ treatments can sometimes reduce or eliminate the need for a facelift or other surgery, or can delay the need for repeated surgery.
9. Can Artecoll™ be used during pregnancy?
There is no technical or medical reason why Artecoll™ could not be used during pregnancy, but because one's appearance often changes considerably during pregnancy it is generally better to wait until after the baby is born before using products like Artecoll™ which are intended to produce long-lasting improvement.
10. Who invented Artecoll™?
Professor Gottfried Lemperle of Germany invented Artecoll™ during the 1980s. Professor Lemperle is a plastic surgeon who is now working in the Division of Plastic Surgery, University of California, San Diego.
11. Am I "vain"?
Many people at some time before Artecoll™ treatment for wrinkles, lip augmentation or scarring have fears and doubts. A common concern is that they are being vain. My experience has been that just about all patients who have Artecoll™, Perlane™, Restylane™, laser hair removal, Botox® treatment, and other procedures to maintain their appearance and comfort are no more vain than anyone else. What does distinguish these individuals is a desire to get the most out of life, and to look as good as they feel.
Looking after our appearance is not a fault. After all, would you leave your house with broken gutters or peeling paint? Why do less for your body? I think you should feel proud of yourself for having the will and the ability to change something that you find unacceptable. I emphasize that you should only have Artecoll™ and other treatments if it is for you. It is a big mistake to do these things if it is just for somebody else.
The same self-esteem that makes our patients successful in their chosen fields, precise in their consultation questions, well groomed and dressed, and often careful in their diet, exercise, and other aspects of health maintenance leads many of our patients to seek help for their wrinkles and frown lines. These individuals are normal healthy people, and the same degree of self-interest that prompts them to exercise, be selective in what they eat and drink, and protect themselves from sun damage leads them to explore the benefits of Artecoll™. Our patients simply want to look their best.
12. Pre-treatment instructions:
It is good to pamper yourself on treatment day! If you have a nice big breakfast or lunch, and an extra glass of water, you will be more comfortable. Many patients like to take a couple of plain Tylenol before treatment (similar to what you might do before having a flu shot) to prevent discomfort. As a practical matter, bruising is seldom a major problem after Artecoll™ treatment. The chance of bruising can be reduced by minimizing your consumption of ASA, alcohol and Vitamin E for 3 days before Artecoll™ treatment.
Please wear no makeup, or makeup that is easy to remove, so that the area to be treated can be clearly seen. You can bring makeup with you, and you may apply your makeup immediately after treatment.
13. Post-treatment instructions:
After Artecoll™ treatment, there is occasionally some pain, swelling, itching or redness at the site of injection — similar to what you could experience after any injection. You may take a couple of plain Tylenol several times a day to reduce swelling and discomfort. ASA (Aspirin) should be avoided as it may increase the chance of bruising around the treated areas. Cold compresses or ice packs can also be used to reduce any swelling, itching or discomfort. Redness may last for 1 — 2 days, occasionally longer in some patients. Until the initial swelling and redness have resolved, do not expose the treated area to intense heat (e.g. hot packs or sunbathing), or to intense cold.
In order to allow the implant to stabilize, try to avoid excessive movement of your facial muscles in the treated areas for the next few days and in particular during the first 12 hours after your Artecoll™ treatment.
The implant may feel somewhat firm at first; however, it will soften over time as your body produces its own natural collagen and connective tissue. As time goes on, you may be able to feel the Artecoll™ implant under your skin because you know where to find it, but the only thing other people should be aware of is the long-lasting improvement in your appearance.
Artecoll™ For long-lasting correction of wrinkles and scars
If you have any questions, and to arrange for prompt, confidential consultation and treatment. No referral is needed. Just CALL us or fill out the ONLINE CONSULTATION. 514 731 1545.
This is a Canadian Web site. Its content is intended only for residents in Canada.