You may have heard friends talk about having a:
Parisian Peel
Derma Peel
Power Peel
Microderm Peel
Macrodermabrasion Peel
Ultra Peel
Lunchtime Peel
All are types of microdermabrasion, another tool available to revitalize and resurface skin. The treatment uses a fine mist of microscopic Sodium chloride (Salt) crystals to exfoliate the top layers of skin (epidermis). Think of a sandblaster followed by a light vacuum cleaner and you have the general idea of microdermabrasion.
What is Macrodermabrasion?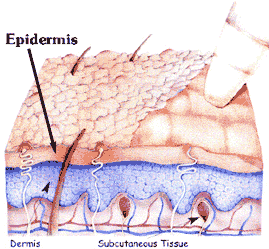 At Permalaser Clinic we performed a technique called Macrodermabrasion which uses non-toxic water soluble salt crystals which penetrates deeper for outstanding results with fewer passes. Using positive pressure to eliminate bruising associated with traditional vacuum based Microdermabration systems.
Macrodermabrasion is performed in our office and requires no anesthesia. Using a precision hand piece that directs a stream of very fine, chemically inert crystals and mild suction where needed on the skin, the gently abrasive action exfoliates the outermost layers of the skin. The doctor or technician can control the power of the spray, from a gentle buffing of the skin to deeper exfoliation where needed. At a low power, macrodermabrasion might be compared to results similar to those of glycolic acid peels. A full-face treatment generally takes 20 to 40 minutes.
What results can you expect?

Following the treatment, your skin may appear lightly pink, but there is no oozing or obvious redness. Some patients say their face feels as if their skin has been deep cleansed. The skin may peel mildly. In the case of a deeper treatment level for more blemished or thicker skins, the skin will appear slightly red and tight for a few hours. Similar to a light peel, the procedure can improve fine lines, wrinkles, sun damage and uneven skin tone. It treats Blackheads and whiteheads, superficial pigmentation, and gives the skin a healthy-looking glow. It may be used in conjunction with chemical peel or laser skin resurfacing.
Macrodermabrasion is ideal for:
Individuals who don't want to undergo the time, expense, discomfort, longer healing time, and possible side effects of alternative skin resurfacing treatments such as medical-dermabrasion or laser skin resurfacing, Macrodermabrasion is for individuals who have fairly minor skin problems.
Individuals who want to reduce the appearance of fine lines and wrinkles, sun damage skin, age spots, uneven skin tone mild acne scaring, blotchiness and small scars.
The best candidates for Macrodermabrasion are women and men who want to:
Improve their general appearance
Maintain good healthier skin
Reverse sun damage
Look their best
Stimulate the natural production of collagen
Macrodermabrasion reduces the appearance of:
Fine lines and wrinkles
Sun damaged skin
Age spots
Mild Scarring
Uneven skin tone
Hyper pigmentation
Various Acne scarring
Blackheads
What are the benefits of Microdermabrasion over other procedures?
There is less recovery time than traditional vacuum based microdermabrasion treatments
There is minimal discomfort
You can resume normal activities immediately
Better skin tone
Even skin color
Refined skin pores
Fewer Acne breakouts
Tighter more youthful skin
Softer skin
Younger appearance
Renewed elasticity
Boost the Natural Production Of Collagen
Happier you!