Juvederm®
Looking for a way to fill out wrinkles and augment the lips with something natural? Your tissues sag over with the years and your lips lose their substance. They retract giving a sad tired appearance. Lipstick runs... you look at yourself one morning in the mirror; the crow's feet in the corner of your eye, these hollowed out nasal furrows which give you a tired look…
Juvederm® is an injectable filler that utilizes a colorless hyaluronic acid. Hyaluronic acid (HA), also known as hyaluronan, exists in connective tissue, serving to cushion and lubricate, and is popularly believed to be one of the keys to maintaining youthfulness. It is a naturally occurring substance in the human body. Because of this reason, a prior skin test is not required for treatment with any Juvederm® injectable filler product.
The environment, sun, hormones and aging can have a serious impact on the appearance of your skin. With every passing year, hyaluronic acid and collagen, two essential components of healthy skin, gradually diminish and result in the visible signs of aging: fine lines, creases, wrinkles and a loss of desirable fullness. At The Permalaser Clinic, the Doctor can now reverse these signs of aging with Juvéderm™, one of the most popular injectable fillers in Canada. Smooth out wrinkles and folds, add volume to sunken skin and redefine contours - you don't have to lose the fight against the signs of aging! Juvéderm™ injectable gel is an FDA and Health Canada approved "next-generation" dermal filler that can revitalize, rejuvenate and replenish.
What is Juvederm™?
Juvéderm™ is a soft injectable gel synthesized from hyaluronic acid – a substance that occurs naturally in the body. Juvéderm™ is the latest generation filler designed to add volume to minimize the appearance of wrinkles and thinning lips. In addition to creating added volume, Juvéderm™ injections can also stimulate collagen growth. While offering dramatic and natural looking results, Juvéderm™ injections require no down time so you'll be able to resume your routine just as soon as you leave the office. Because Juvéderm™ does not contain any animal by-products there is no risk of allergic reaction as might be the case with other fillers.

According to its manufacturers Juvéderm™ soft replenishing gel filler employs a patented HYLACROSS™ technology providing one of the highest concentrations of cross-linked hyaluronic acid of any other dermal filler. This means that the results of your Juvéderm™ injection will outlast any other filler currently available. Another advantage of Juvéderm™ over other fillers is its smooth consistency. Juvéderm™ is the softest and most consistent filler currently available for replenishing your natural volume.
Juvederm™ Plus Lidocaine
Juvéderm® PLUS contains lidocaine- a local anaesthetic - to provide more comfort both during and after injection. This means less bruising, swelling and discomfort.
Experience the Benefits of Juvéderm™:
Smooth away deep wrinkles and fine lines, such as those around the nose and mouth (Marionette Lines and Nasolabial Folds).
Restore lost fullness and enhance facial contours.
Boost the volume in your lips and make them more prominent.
Reduce Vertical Lip Lines.
Restore lost fullness to the cheek and chin areas.
Re-contour the jawline without surgery.
Treat nasal defects without surgery.
Correct ear folds.
Designed to smoothen out contours, one of the most common areas to treat is the nasolabial folds, the creases formed on either side of the mouth and nose. It is also an excellent injectable filler to use for lips, as it boosts volume.
The hyaluronic acid used in Juvederm® is in the form of a transparent gel known as NASHA™. Needles used to inject Juvederm® are pre-filled, eliminating the possibility of contamination immediately before injection. The actual substance injected is of the smoothest consistency available on the market today, designed to produce the desirable results that last as long as possible.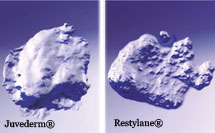 photo courtesy of Allergan Inc.
Having the Benefits of Juvéderm®
Over the last years, hyaluronic acid has emerged as the miracle compound for filling in wrinkles.
Hyaluronic acid is a substance which is naturally present in the dermis and maintains the hydration of tissues, becoming absorbed slowly over time. Injection of Juvéderm® is a replacement source of this hyaluronic acid, which disappears gradually with age.
Juvéderm® is a hyaluronic acid in the form of a transparent homogeneous viscoelastic gel which has four major benefits:
It is obtained by biosynthesis and is of non-animal origin
It does not require any preliminary test
The molecule is one of the constituents of the human body
Its hyaluronic acid content is currently one of the most concentrated on the market.
This injectable filler exists in different levels of concentration, depending on the intensity of the wrinkles treated: Juvederm® Ultra and Juvederm® Ultra Plus. After consultation with our injectable fillers specialist at our cosmetic clinic in Montreal Quebec, Canada, the concentration appropriate for you will be determined. Depending on concentration and number of treatments, results can last for a year or even longer! In fact, the FDA has approved Juvederm® as the only hyaluronic acid filler to last up to a year.
As Juvederm® is injected, this may cause discomfort during the procedure. A numbing cream may be applied to the skin to reduce discomfort.
Pre-injection recommendations:
If your pores are dilated on the site to be treated, it is recommended that astringent care be administered: an astringent lotion, cleansing mask or vitamin A acid or AHA based preparation (ask your practitioner for advice).
You are strongly recommended not to take aspirin or anti-inflammatories during the three days and if possible the week before the injection session.
Post-injection recommendations:
In the hours following the injection we recommend that you avoid excessive facial expressions.
Similarly, you are not recommended to:
Expose yourself to gel, sunlight or excessive heat (UV, sauna, Turkish baths etc.) for long times during the two weeks after the injection.
To touch, handle or massage the site injected.
Make up and usual care may be used on the day after treatment.
How long does Juvéderm™ last?
The unique formulation of this injectable filler provides results that last up to one year.
How long do I have to wait before I see results?
Results are instant. You will see an immediate improvement to the treated area. However, post-injection swelling may hide results. Swelling tends to go away within a couple days. effect include temporary skin reactions such as redness, swelling, tenderness and bruising. Bruising may be covered up with light makeup. Inflammatory reactions (redness, edema, erythema etc.) which may be associated with stinging or pain on pressure may occur after the injection. These reactions may last for a week.
Is treatment painful?
A needle is used to inject Juvéderm™ directly into the skin. This needle is very fine needle to reduce discomfort. Because Juvéderm™ is also available with lidocaine, a medication that acts as a pain reliever, the whole treatment process is a more comfortable experience.
What are the possible side effects?
Juvéderm™ is generally well tolerated by the patients at The Perma Laser Clinic. Any side effects that occur are mild to moderate and generally last no more than a week or so. Side Swellings or nodules may develop at the injection site.
Persistence of such reactions for more than a week or so or any other secondary effect which develops must be reported to practitioner as soon as possible.
How long is the recovery period? Is there any downtime?
The treatment requires only minimal downtime and a relatively short recovery period. You can expect to return to your normal routines immediately following treatment.
Contra-Indications
Women who are pregnant or breastfeeding
Areas with inflammatory and/or infectious skin problems (acne etc.).
Association with laser treatment, chemical peeling or dermabrasion.
Do not forget to tell your practitioner about your past medical history, such as:
Tendency to develop hypertrophic scarring, autoimmune diseases, immunotherapy treatment, known hypersensitivity to hyaluronic acid. (For more information, please refer to the instructions for use)
How long does a treatment usually take?
Treatment takes anywhere from 15 to 60 minutes, depending on the patient and the treatment areas. It is relatively quick and easy.
How do I get started?
Please call us to book your consultation. You'll spend some time consulting with the Dr. before you receive treatment.
All of this advice is designed to ensure you have the best results. For any further information, please ask your practitioner for advice.
Call us for your free consultation today 514 731 1545